Click on photos to see a larger view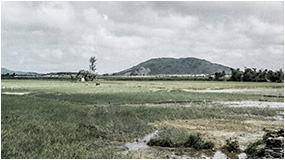 1. This is a view of Duc Pho Hill (Montezuma) from Highway QL1, a mile or so north of Duc Pho. Our camp was at the base of this hill. (Duc Pho, Date: October 1967)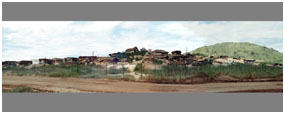 2. This photo is a panoramic view of our camp. It was made from four separate photos. Our camp was on a small mound at the southwestern base of Duc Pho Hill (Montezuma). You can see Duc Pho Hill (Montezuma) in the background. (Duc Pho, Date: October 1967)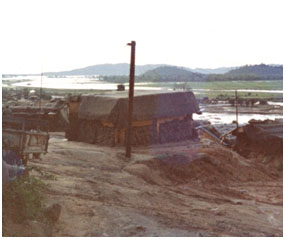 3. This picture and the next two were taken after several days of heavy and continuous rain. (Duc Pho, Date: October 1967)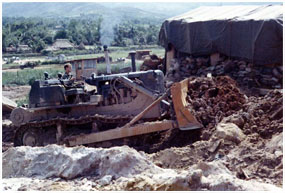 4. After all that heavy rain subsided we had to get this dozer to come in and push some of the dirt back up the hill and around our hootch. (Duc Pho, Date: October 1967)
The operator's name on this dozer is Gregg Heacock from New Jersey.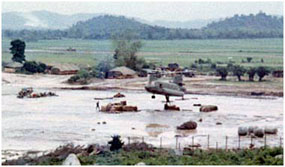 5. This photo and the next shows where supplies were stored at the Duc Pho compound. Helicopters would pick up supplies here and fly out to units in the field. (Duc Pho, Date: October 1967)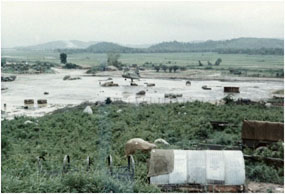 6. Another view of the Duc Pho compound supply area. This shows a helicoper picking up some supplies. (Duc Pho, Date: October 1967)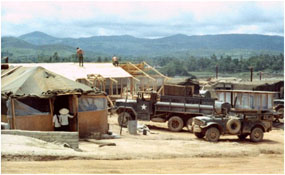 7. The structure on the left with the two Vietnamese girls standing in the doorway is our mess hall. The structure under construction is our new mess hall. (Duc Pho, Date: October 1967)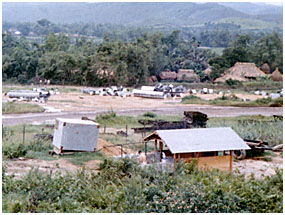 8. This photo shows the area where we put together our culverts. Our culvert yard was along the Duc Pho compound perimeter. The thatch roofed structures are outside the perimeter and are part of the Duc Pho village. The structure in the foreground was our shower and yes, that is someone in there taking a shower. I apologize for the invasion of his privacy. Duc Pho hill was behind me when I took this photo. (Duc Pho, Date: October 1967)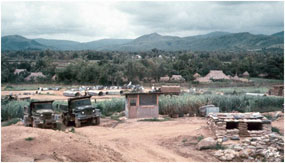 9. Another view of the culvert yard but from a slightly different angle. (Duc Pho, Date: November 1967)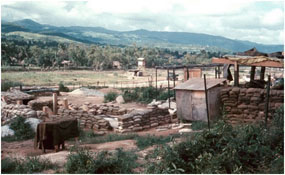 10. The wooden tower in the distance is along the compound perimeter. This tower and the bunker next to it were part of the Duc Pho (LZ Bronco) compound perimeter security system. (Duc Pho, Date: November 1967)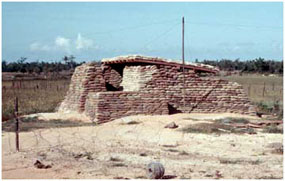 11. Perimeter guard bunker.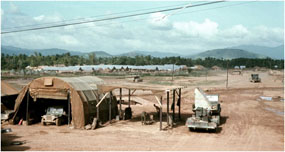 12. View of our motor pool.
Mr. Merlin Hanson placed the following comments in the my Guest Book. Merlin wrote, "The picture of our motor pool with the 5 ton loaded with a triangular tank in the back was the truck I drove to the quarry every day. After a day of drilling and blasting I would stop at a river and fill that tank with water for our showers". Thanks for the information Merlin.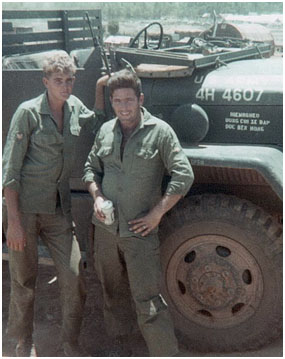 13. Jeff May Jr and Stretch. (Duc Pho,1967 - Photo provided by Jeff May Jr)